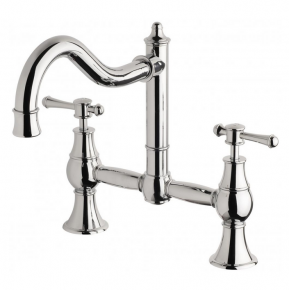 There are many tapware brands out there to choose from. The best tapware brand to choose for your renovation can depend on what you are looking for in your bathroom or kitchen products and the style of your renovation. Today, we take a look at what we think are some of the best tapware brands in Australia, stocked by Renovation Kingdom. Keep reading to find out more about a range of tapware brands that we stock, plus some examples of what styles the taps could suit!

Phoenix Nostalgia Lever Exposed Sink Set
Phoenix Tapware
Phoenix Tapware began in a small shed in Hastings, Victoria in the 1980s. Since 1989, Phoenix has been producing a range of tapware, showers, and related accessories. The company is recognised as the leading pioneers in the Australian and New Zealand bathroom and kitchen industry! Some examples of the Phoenix tapware we stock include the Phoenix Nostalgia Lever Exposed Sink Set, which is perfect for those looking to create a vintage feel in their bathroom or kitchen. After a sleek, modern handle set for your shower? Check out the Phoenix Rush Matte Black Wall Top Set!
Nero Tapware
Nero Tapware creates simple, no fuss, elegant taps and fixtures. Nero describes itself as "a luxury bathroom brand that interprets artistic beauty in a minimalistic way". Sources of inspiration include mountains, rivers and lakes found throughout nature. The company utilises eco-friendly sourcing and aims to reduce waste and pollution as much as they can. Nero designs stocked by Renovation Kingdom include the stunning Nero Mecca Matte Black Shower Mixer With Diverter, perfect for minimalist bathrooms.

Meir Round Basin Mixer
Meir Tapware
Meir is an Australian, family-owned company. The company states its reason for existence is to "help people love their home". Meir has won multiple awards since beginning in 2012 and has built a name for designing and manufacturing premium bathroom and kitchen products. In creating their products, they use DZR brass and select high-quality European parts and components from Spain, Switzerland, and Hungary. Renovation Kingdom supplies a wide range of Meir tapware, including the Meir Round Basin Mixer – Champagne, for those after a regal, champagne-coloured mixer tap for their bathroom.
Fienza
Fienza aims to bring exciting bathroom solutions to homes across Australia. Forming in 2009, Fienza sources, imports, and distributes bathroom fixtures and fittings that are of high quality. The company's bathware products include vanities, mirrors and storage solutions, showers, baths and bath outlets, basins, mixers and tapware, toilets, and spare parts. Some examples of Fienza tapware stocked at Renovation Kingdom include the Fienza Michelle Chrome Basin Set, which is ideal for those looking for a simple, classic tap set, and the Fienza Lillian Shepherds Crook Bath Set – Black, great for people who wish to incorporate a modern vintage tap set into their bathroom.
Ram Tapware
Ram Tapware is currently the largest manufacturer of tapware and waste outlets in Australia. The company has been manufacturing for more than 70 years and specialises in the design and manufacture of quality bathroom fittings. At Renovation Kingdom, we stock a large range of Ram Tapware. Examples of products we stock include the sleek Ram Adero Swivel Sink Mixer with Gooseneck Spout for those looking to add to or complete their modern kitchen, or the unique Ram Park Cross Sileno Shower Set for people after a modern shower tap and head set that looks a little different.
There are many high-quality tapware brands in Australia and stocked at Renovation Kingdom to choose from. We hope you've enjoyed learning about some of the best tapware brands in Australia!