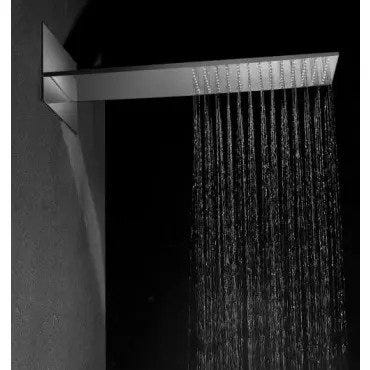 Whether you've just bought your first home, or are completing long-overdue renovations on your property, you may be looking to purchase a new shower head. Shower heads are relatively inexpensive and easy to install, however, there are many shower heads on the market. This means there are lots of options to consider before committing to your purchase.
When buying a shower head, you must decide what size of head you want - they come in standard, large and rainfall options. You'll also need to figure out whether you want one that's fixed or handheld, or a combination of both. After that, also think about style, colour, and texture. There are stainless steel shower heads, brass shower heads, and plastic shower heads - just to name a few!
There's no single best shower head in Australia, and deciding which type works best for you will largely depend on personal preference.
Below, we take a look at a variety of different shower head types to help you decide on the best shower head for your needs. If you're wondering 'how do I know what shower head to buy?', read on!
Round shower head
A round shower head is a classic choice. This variety is available in both fixed and handheld options, and is easy to clean too. You can find round shower heads in a range of different sizes and finishes, with varying methods of attachment including wall-mounted and ceiling mounted options.
Ceiling mounted shower head
The ceiling-mounted option is popular for its convenience and modern look. As the name suggests, these tend to be fixed to the ceiling, so they may not be the best choice if you prefer the convenience of a handheld shower head. This style can be fun for those who like an overhead showering experience.
Matte black shower head
Want a contemporary shower head fixture? Take a look at matte black shower heads. These designs have a beautiful finish that's quite different to the stainless steel shine. A matte black shower head may be good for those undertaking a modern renovation that are after simple, striking finishes.
Combination fixed and handheld options
Some shower heads provide both the convenience of a fixed set up, plus the option of hand-held use, meaning you get the best of both worlds. These are great for people who would like the flexibility that comes with both options. This could be a great option for large families, young children and/or people who might need assistance with their showering.
Full-body shower
Super chic and stylish, shower heads that include an overhead body sprayer can be great for people who like to shower in the same room as their partner, or for families with young children. These shower heads are mounted to the wall, providing a full body clean. A hand-held shower head can be used in conjunction with a body spray to provide the flexibility to move around. With this type of shower head, you'll get an all-over clean without having to turn around mid-shower.
Rainfall shower head
A rainfall shower head has larger water holes that produce wider and fuller droplets. This generally produces a gentler flow. A rainfall shower head is great for people who don't like the feeling of too much water pressure. These low pressure shower heads also have a modern look, making them a good choice for people wanting to create an updated renovation.
Handheld shower head
A handheld shower has a small hose that can be removed from the wall, meaning you can direct the water flow wherever you want. These are great for convenience, and work well for those who like to be able to shower quickly and efficiently, rather than spending a lot of time under the water flow.
Square shower head
Square shower heads exude contemporary luxury. This style is a good choice for people who prefer a more rigid look in their bathroom. Square shower heads can be fixed, handheld or a combination of both. They're also a popular style of rainfall shower head. Clean your square shower head regularly to prevent any build-up accumulating in the corners of the design.
Low pressure shower head
Shower heads with low pressure are great for those who prefer a gentle showering experience. Low pressure shower headshave less holes in the design, meaning they emit fewer streams of water. These shower heads can be a good choice for people with sensitive skin or those who simply enjoy a lighter flow of water.
High pressure shower head
To contrast low pressure options, high pressure shower heads have a larger number of holes, meaning they emit more streams of water. A high pressure shower head can be a good option for people who prefer a stronger flow or a more forceful sensation while showering. High pressure showers can be invigorating in the morning, or provide a refreshing feeling after a workout. Just keep in mind that this type of shower head may not be ideal for those with sensitive skin.
Stainless steel shower head
A stainless steel shower head is a tried and true look. These shower heads are easy to clean, simple, and durable. They can also be an affordable choice, with various models and designs available. Stainless steel is a great style for many showers, and is one of the most common styles on the market today.
Shower head with shroud
With a unique look, a shower head with a shroud is a design you may like to bring into your modern bathroom. At Renovation Kingdom, we have several shower head with shroud designs available, including rainfall options with either a rose gold or matte black finish.
When it comes to finding the best shower head for your needs, there are many elements to take into consideration. From colour, shape, size, style and water pressure, there are many different options to choose from. Visit Renovation Kingdom instore or online to find the best shower head for your needs.