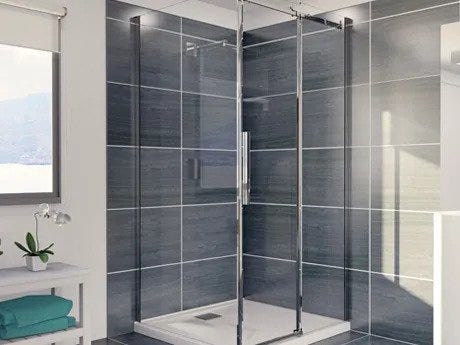 Like many popular fashions, bathroom trends come and go (and then sometimes come back around again). There are lots of different bathroom trendsthat have been popular throughout the years, from the brightly-coloured wall tiles of the seventies to the wooden cabinets of the nineties.
In this article, we take a look at some of the bathroom trends of 2021 and 2022, and attempt to answer the question "what is trending in bathrooms for 2021 and 2022?".
Backlit mirrors
Glass and mirrors are popular in bathrooms, for obvious reasons, and backlit mirrors are becoming increasingly popular. Not only do backlit mirrors provide a whole lot of light so you don't have to struggle with shaving or applying makeup by bad bathroom lighting, but they also create an air of modern luxury. Backlit mirrors also serve to make your bathroom look bigger and more spacious.
Rainfall shower heads
It should come as no surprise that one bathroom trend of 2021 is rainfall shower heads. Rainfall showers are becoming increasingly popular because of their luxurious look and relaxing effect. The pressure from the water should be gentle enough to help relax your muscles, but strong enough that you still get that feeling of a good shower after a long day. Rainfall shower heads are available in a range of different shapes, colours, and sizes.
Skylights
Skylights are springing up all over bathrooms. These features tend to focus light towards the shower or vanity area - illuminating the space. A bathroom skylight can really help to make your bathroom look bigger, while also providing an intriguing focal point. Skylights are often built into the roof, however, there are other solutions such as skylights positioned within massive tiles that can simply be replaced.
Sustainability
Popular bathroom trends in 2021 and 2022 likely include elements of sustainable design. Bathrooms are notorious energy wasters, which means there is a lot of space for improvement. Making small changes to your bathroom's design and function to be more sustainable will help reduce the greenhouse gas emissions that cause climate change, cutting down on how much you're spending on heating and electricity every year.
Floating vanities
Attaching to the wall, floating vanities are a beautiful, popular bathroom trend for 2021. In addition to being a classy and luxurious way of creating more storage space in your bathroom, floating vanities are great for easy cleaning as mops and vacuums can fit beneath them with ease. Floating vanities can be used as either larger cabinets or smaller counters, depending on your requirements.
Floating shelves
These days, floating shelves on walls are super trendy. You can use your imagination when it comes to placing them, and decide whether you wish to go for symmetry, asymmetry, many shelves or a single feature display. Floating shelves are great as they don't take up much room and can be used to house all manner of bathroom essentials, such as shampoos, soap dispensers, plants, and candles.
Large mirrored medicine cabinets
Like backlit mirrors, medicine cabinets can serve a dual purpose of both making your bathroom look nicer while also having an actual function - storing toiletries that you use every day. A large mirrored medicine cabinet helps make your bathroom look neat and tidy, providing an area to place your toiletries rather than leaving them on the counter. Large mirrors can also make a bathroom seem more spacious.
Heated flooring
Stepping onto the bathroom tiles on a cold winter morning can be a pretty confronting feeling. During renovations, you may like to install heating panels underneath your floor tiles to allow for them to be warmed up. This way your feet won't feel cold when stepping out of the shower or walking around on the tiles.
Free-standing baths
Whilst traditional bathtubs are still popular, free-standing baths have become more common. Free-standing tubs don't have to be placed directly next to an external wall - meaning they can be placed in the centre of your bathroom for a bit of a different look. At Renovation Kingdom, we have a wide variety of free-standing bathtubs available, such as theVizzini 'Violina Slipper' and the Vizzini Alberta.
Large wall tiles
Many current bathroom trends lean towards using larger tiles for a modern look. Large wall tiles can be used as a feature wall within the shower, or as the splash-back for the sink. These tiles can be made from marble, ceramic, or glass. Large tiles can also be utilised for bathroom floors.
Art Deco style and inspirations
Art Deco remains very popular in bathrooms because of the clean lines and geometric shapes that are characteristic of this design style. Art Deco inspiration includes contrasting black and white features, angles, circles and semicircles, chrome, marble, and mirrors.
Black hardware
Tying in with the Art Deco stylings, matte black hardware is a pretty significant bathroom trend. Installing a matte black faucet (and matching tapware) is one bathroom faucet trend of 2021. Black hardware is an easy way to add a bold, contemporary flair to your bathroom.
Square shower heads
Another fairly common style of modern bathroom shower head is one with a square shape. While square shower heads are not quite as popular as they once were, choosing one can still give your bathroom a modern touch. They are great for angular and unique bathrooms. Available in all shapes and sizes, square shower heads can be matched with many different bathroom styles and décor scheme
Shower benches
Adding a shower bench to your bathroom is another bathroom trend for 2021. You may like to install one to allow for seated showers, or as a footrest for shaving your legs. Shower benches can be handy for families that have small children. They also increase bathroom accessibility.
Above-counter basins
Above-counter basins sit on the vanity countertop, rather than within it. These are becoming increasingly popular in bathroom renovations. Above-counter basins look great with modern bathroom vanities, but they can also fit into most types of bathrooms. They offer a sleek, minimalistic look that works well in many different types of bathrooms.