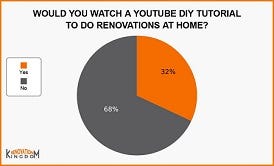 With Australians now finding themselves with a lot more time at home, many are getting stuck into home projects, if the lines at local home improvement stores are anything to go by! Not to mention that Google searches for DIY have doubled since the start of March!
Many of us have thought about the renovations we would like to do to our homes, and some have even done some renovations (to varying levels of success, we're sure!) … but how many Australians would watch an online video to learn how to do renovations at their home?
We recently conducted a survey of 700 Australians, aged between 18-65, asking the question
"Would you watch a YouTube DIY tutorial to do renovations at home?".
And...
1 in 3 would watch a DIY tutorial to carry out home renovations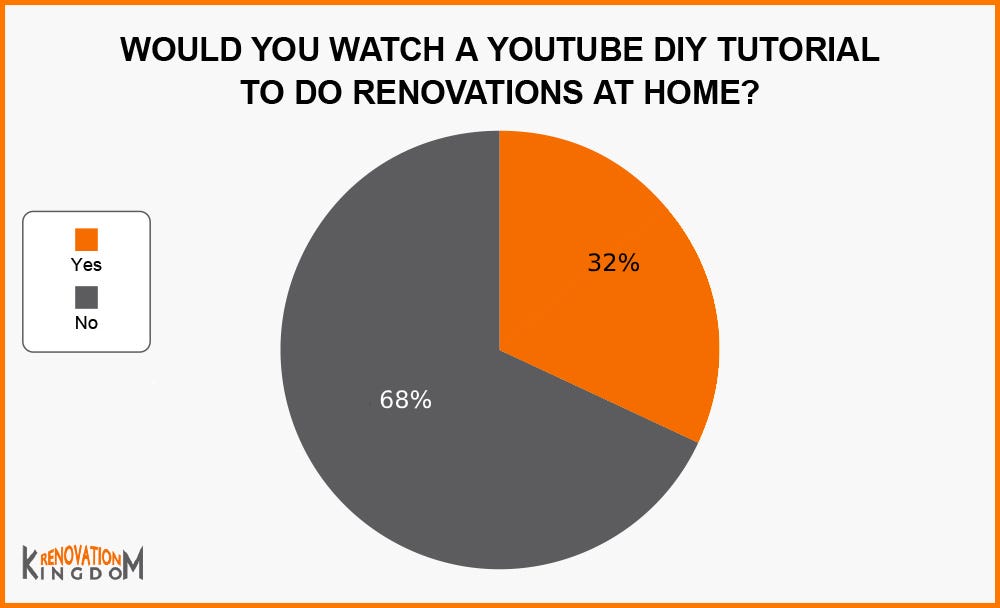 Almost one-third of Australians said Yes, they would watch YouTube to help them to home renos! Of that 32%, 18% said yes, and 14% said they would, but only for minor projects. Slightly more than two-thirds of respondents (68%) answered No.
Battle of the Sexes?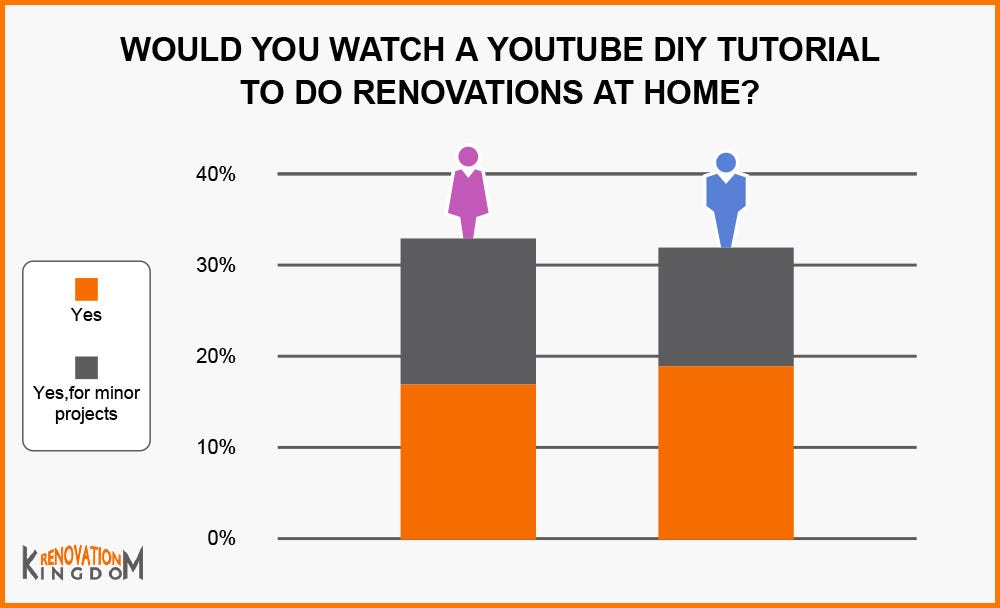 When it comes to gender, our survey shows women and men being pretty even on the front at 67% and 68%, respectively saying they would not watch a Youtube DIY tutorial for renovations. Although close, women were slightly ahead overall; showing that yes, you do need to read the instructions. However, in the case of major projects, men were only slightly more confident.
DIY-not?
But could people be missing out on a wealth of knowledge by ignoring YouTube videos?
"YouTube is a gift to DIYers. We spent a few hours finding quality videos on laying concrete, staining wood for outdoor use, and the right way to build herb gardens. Really, all the instruction we needed was right there." says Donovan Gow, Head Handyman at his own renovation business.
Interestingly, when it comes to demographics, our statistics show that one of the older age groups (55-64-year-olds) are the most willing to watch YouTube DIY tutorials for home renovations. 37% of those aged 55 to 64 replied with either "yes" or "yes, for minor projects only" (with 20% and 17% for these answers, respectively.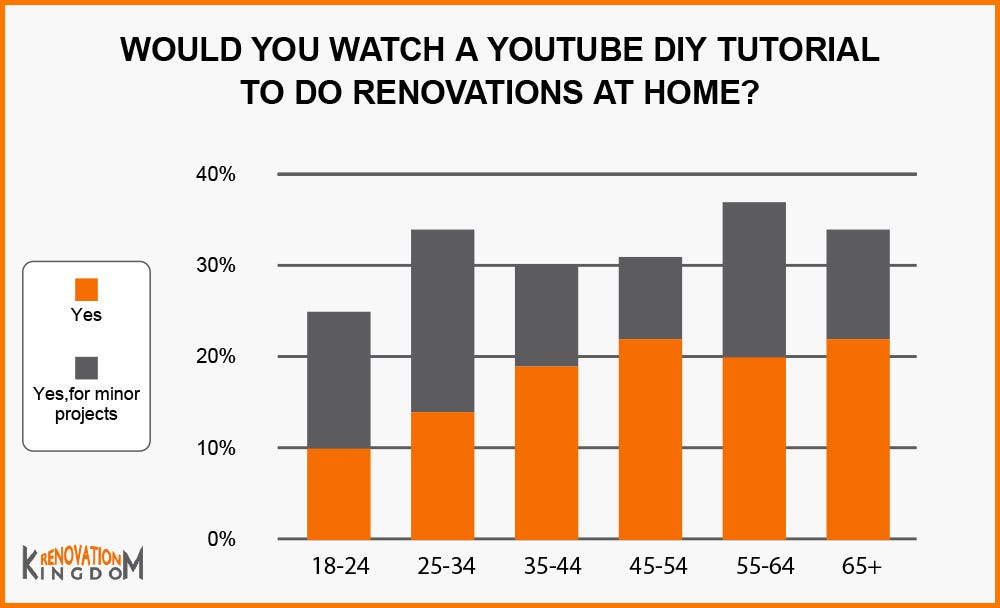 The age-group least likely to watch YouTube DIY videos for home renovations was, surprisingly, those aged 18-24 years. 75% of this cohort said they wouldn't watch these videos for renovations, with 11% saying they would, and 15% saying they would for minor projects. An ABS Survey of Income and Housing conducted in 2013-14 found that just 12.8% of those aged 15 to 24 owned their own home, which may be to answer for their response in the survey.
Lisa Torelli-Sauer, a DIY Decorator from Sensible Digs says many YouTube videos were watched for their renovation.
"We watched a ton of YouTube videos, especially when it came to installing the floors," she says. "We were amazed at how many great step-by-step tutorials were out there. There are so many people willing to share their expertise, and for that, we were very grateful."
How else can you use technology for your home renovations?
There's no arguing that recent years have seen a boom in technology usage. Smartphones mean solutions are (quite literally) in the palm of our hands. Although many are more comfortable with hiring a professional for the best quality of work. So, how else have DIY-ers used technology for renovations?
"We did the majority of the work ourselves," says Michelle See from Brisbane.
"Although we did use AirTasker to find a few professionals. The gentleman that did all the panelling in our house was a semi-retired carpenter with the old-style skills we needed for this. He just tops up his income with the occasional job. We also found our painter for all the internal paintwork through AirTasker. We saved thousands over our other quotes."
AirTasker is just one of the apps available that might be helpful for sourcing people to assist with home renovations. Many businesses also advertise their services on places such as Gumtree, while some companies may choose to show their completed jobs on Facebook or Instagram, to demonstrate the quality of their work. And if you're someone who likes to go off word of mouth, Google Reviews can be helpful in showing homeowners what previous clients have had to say about renovators they have worked with.
Keen to start renovating?
So with one-third of Australians willing to watching YouTube DIY tutorials to help them renovate their home, we hope to see some amazing DIY jobs in the coming months! If you are not ready for a major project, why not start with something smaller and see what you can achieve! Regardless of if you're a video watcher or not, if you are looking to get some renovations done on your kitchen or bathroom, check out our large array of stock for inspiration! We are an Australian-owned business, who offer delivery Australia-wide. Whether it's a new bath or basin, a mirror, vanity unit, or even the kitchen sink, Renovation Kingdom has a large range of items for you to choose from.
Enjoy planning your renovations, but remember, in Australia, there are standards and regulations for building, so be sure to get your baths, toilets, and other goods installed by a qualified and licensed professional to meet the Australian standards. Incorrect installations can void your warranty, reduce functionality, and cause potential damage to you or your property. This study was conducted for general interest and does not necessarily represent the views of, nor is a recommendation from Renovation Kingdom on DIY renovations.
Methodology
Survey results included responses from over 700 Australians aged 18 and over.
The organisers of this study incentivised two groups of participants to participate in this study:
Internet users across a range of programs who are rewarded for their opinion in exchange for access to free content
Smartphone users who opt in to participate in opinion polls in exchange for rewards determined by the research company
Internet users' locations are determined using their IP and their demographic data is based on the target user profile of the website. Smartphone users who opt in provide this information upon signing up to the rewards program.
The organisers of this study ensure a balanced opinion poll by ensuring the sample of the study reflects the demographics of the target audience. For example, internet users over the age of 18. Such demographics include age, gender and geographic location.
The organisers of this study maintain the integrity of the research data by using the following 2 steps:
(1) Stratified sampling by filtering demographic data to align with the intended audience, and
(2) post-stratification weighting to ensure consistency between intended and actual audience population data.