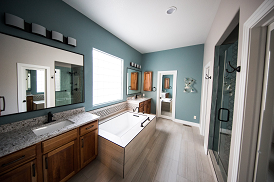 In the world of bathroom trends, 2019 is all about colour, simplicity, and clever use of space. The bathroom can add a great deal of value to a home, but construction isn't cheap. A typical bathroom remodel can cost anywhere between a few thousand dollars and a few tens of thousands, with the average cost coming in at just over $17,000. Of course, the cost depends upon the size of the room, the materials you choose to work with, and the individual labour costs of your chosen professionals, but it's worth putting thought into a design that will stand the test of time. If you're committed to giving your bathroom a new look this year, these are the trends to remember.
Think Small
Creating space can be a challenge, but when you start with a small toilet, interior design options are endless, as you'll have plenty of extra room for all of the other fixtures and design features. Your bathtub, shower, and vanity will enjoy more spacious surrounds and give the room as a whole a sense of luxury. Fortunately, there are plenty of compact options around at the moment, with floating, wall-mounted styles gaining popularity, and even a relatively small update can make all the difference. The same trend is also gaining traction in the vanity department, meaning those who are considering a bathroom renovation can look forward to much more free floor space.
Experiment With Colour
The best new bathroom designs start with a splash of paint, and for many years, white was one of the most popular bathroom colours available, but for now, its reign may have come to an end. Designers have labelled 2019 as the year of colour for the bathroom and predicted peak popularity for pastel pinks, blues, and metallic shades. A colourful bathroom wall is easily achieved and updated, but if you plan on regularly refreshing the paint, you'll want to select furniture in neutral or wooden tones which won't look out of place up against your latest shade.
Opt For Stylish Tiles
The latest trends in bathroom tiles are just as colourful as wall palettes, with calming tones of blue and green making a statement. Although traditional white may not be the shade of the moment, classic shapes are still kicking around, as many designers still consider subway tiles to be in-style. Even the best finish for your tiles can be dictated by fashion trends, and tiles with matte finishes have found favour this year, along with a variety of other bathroom features such as tap fittings or bath tubs. The labour-intensive process of tiling or removing tiles is part of the reason why bathroom renovations are notoriously expensive, but a great-quality tiling job is an investment which promises to last for years.
Love Your Reflection
In the search for a new bathroom mirror, ideas and inspiration can come from a variety of sources. However, because the mirror is likely one of the last considerations, you're likely to face a few constraints in the selection process, and you'll probably need certain information before you can select the right design. First, you'll want to grab your measuring tape and make a note of the spare wall space available for the mirror. Then, if you're after a hanging mirror, hammering in a carefully-positioned nail is the next important step. This is crucial because you'll need to find a spot in the wall with enough thickness or backing behind it to support the nail and the weight of the mirror. Finally, it's time to consider the shapes and styles available, keeping in mind that a timeless rectangular design will rarely go out of style, and likely deliver the best value for money down the track.
Don't Miss The Little Details
Things like bathroom faucet trends and lighting fixtures may not be on your radar while you're busy worrying about big-ticket purchases and labor costs, but investing in small touches will ultimately take your design to another level. Having faucets mounted on the wall remains a popular trend, but should be adapted with care, since the spot you choose needs to work with the location of your bathtub or vanity. Lighting fixture options can vary even more widely depending on personal taste, especially in context of a minimalistic bathroom style. When everything else is less than colourful, a bold choice in the feature lighting department, like a bright shade or a creative shape, is a simple way to give the room a lift.
Lose The Frame
With a surprisingly chic design, frameless glass shower screens are a modern trend set to stay. These screens can make your bathroom seem bigger by removing some of the sense of division between spaces. Glass shower doors stretching from the floor to the ceiling are on-trend this year, and they make for an elegant aesthetic, as long as you're able to clean the glass from top to bottom. If you like the idea of a border-free shower, you could go one step further and forget the doors altogether. Besides creating a modern feel, open shower spaces with clever draining systems also minimise your cleaning obligations each week, which is a pretty great reason to skip the glass.
On-trend bathrooms require a great deal of consideration, planning, and expenditure to create, but when the work is done well, the rewards are great. You'll be able to enjoy your new design for many years to come, and the hard work will return to you in the form of added property value.