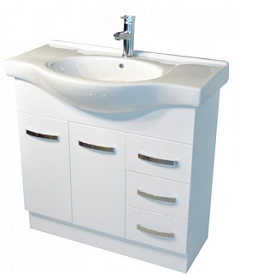 Seeing the terms relating to your bathroom, laundry, and kitchen white goods and fixtures might have you wondering just what are WELS and WaterMark certifications? Take comfort in the fact that all Renovation Kingdom products comply with all of the Australian standards and regulations, so you can enjoy quality products and save water for years to come.
Today, we take a look at the meaning of both WELS and WaterMark, and why they are important. Read on to find out more!
What is WELS?
WELS is an acronym that stands for Water Efficiency Labelling and Standards (WELS). It is Australia's urban water-saving scheme, and its management is the responsibility of the Department of Agriculture and Water Resources, in partnership with relevant industry and state and territory governments.
Why is the WELS scheme important?
The WELS scheme aims to conserve water and save Aussies money. In fact, the Australian Government estimates that the use of water-efficient products could see Australians saving more than $2 billion by 2030!
The main purpose of the WELS scheme is threefold. It aims to:
- Provide information for purchasers of water-using and water-saving products
- Promote the adoption of efficient and effective water-using and water-saving technologies
- Conserve water supplies by reducing water consumption
In order to achieve these objectives, the WELS scheme specifies and enforces set standards for water efficiency and labelling. These regulated products are labelled with water efficiency information that is designed to be easy to understand for consumers, allowing them to make informed decisions.
The Australian Government works with its partners to achieve its objectives by:
- Working with industry to maintain high levels of compliance with registration and labelling requirements
- Managing product registrations
- Ensuring standards underpinning the WELS scheme are current and appropriate
Products with this WELS labelling include regulated water-using appliances, fixtures, and fittings. This means there are WELS taps, showers, toilets, and flow controllers, among a range of other products that fall under the scheme. Products are awarded a rating from 1 to 6 stars. Taps can score up to six stars, while the highest rating for showers is 4 stars. Taps that achieve a 6-star water efficiency rating, such as the Phoenix Vivid Slimline Basin Mixer, by Phoenix Tapware, flow at 4L/min and can save you up to $60 each year on water bills.
For more information on the WELS scheme, visit the Australian Government page here.
What is WaterMark?
So, what is WaterMark? A WaterMark certification is required on relevant plumbing products before they can be installed by a licenced plumber, in accordance with state and territory plumbing regulations. This certification confirms that the plumbing product:
- Meets relevant Australian Standards relating to product quality, including health and safety
- Is fit for purpose
- Complies with the Plumbing Code of Australia
A plumbing product requires a valid WaterMark certification before it can be registered under the WELS scheme. The WaterMark process is managed and administered by the Australian Building Codes Board.
What products require a WaterMark certification?
Want to find out whether your product requires a WaterMark certification? Check out the Plumbing Code of Australia and Australian Standard 3500 for the full list of items. If the plumbing product is regulated under the WELS scheme, then the WaterMark certification is only required on products that are intended to be used in a piped water network. This includes products such as:
- Tap equipment
- Showers
- Lavatory and urinal equipment
- Flow controllers
If flow controllers are fitted into other regulated products, they must also be WaterMark certified prior to being WELS registered. Want to learn more about the WaterMark certification? Visit the Australian Government WaterMark certification page here.
We hope this blog has helped answer any questions you may have had regarding what WELS and WaterMark are. These ratings are important as they demonstrate that a plumbing product complies with Australian standards, guidelines, and regulations.