Installing a new bath may significantly improve your bathroom's functionality and appearance. As there are lots of types, brands and sizes of bathtubs to choose from, you should be careful and give yourself sufficient time to choose the one that is perfect for you.
We will give you 7 tips on how to choose a bath that will suit both your needs and bathroom requirements.
Step 1 – Bath Dimensions
You must know the exact bath dimensions before you go shopping. There has to be sufficient space for bath installation. If the bathroom is still empty, it would be good to plan out where all the other installations and appliances will be.
Step 2 – Choose a Type
Choosing the perfect type may not be easy or quick. There are many different kinds of bathtubs and they differ in design, features and materials: alcove, drop-in, free-standing, corner, walk-in, clawfoot, whirlpool baths, etc. Choose the type according to your own personal preference or to suit the needs of the person who will use it the most.
For instance, if you prefer long, relaxing baths, choose the Jacuzzi or a bathtub with a therapeutic massage system. If you have a person with reduced mobility in your family choose a walk-in bath. Or, if you really love soaking, pick a bathtub that is extra deep.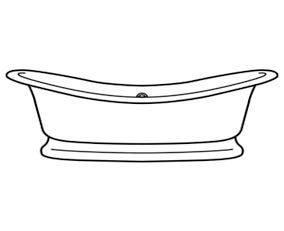 Step 3 – Choose a Material
Every bathtub surface material has its own pros and cons. They have different prices and not all baths come in all materials. The most common are: acrylic, composite, gel-coated fiberglass, porcelain on steel, cultured marble and cast iron. A less common, but unique and beautiful choice is a stone bath.
The benefits of acrylic baths are their lightness, durability and ease of repair. Gel-coated fiberglass is cheaper and easy to clean, but it's not as extremely durable as acrylic. Cast iron is the most durable type, but it's extremely heavy. Composite tubs have the same heat retention as cast iron ones, but they're much lighter, which makes it an extremely popular material.
Step 4 – Pay Attention to Additional Features
Several additional items can make time spent in the bath more pleasurable and safe. Upgrade your bath with products such as a backrest (choose an appropriate slope and height), foot stops, side supports, grab bars, head support cushions, knee brakes, support seats and so on.
Round backrests are generally more comfortable. Feet stops prevent the user from sliding down if the bath is too long. Head supports increase comfort and protection as they hold the head in a secure position.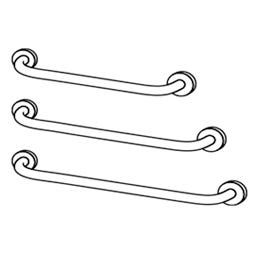 Step 5 – The Type of Massage System
If you want a bath with a hydro-thermal massage system, bear in mind that there are two kinds of them - air systems and jetted systems. Traditional jetted baths have one big disadvantage – tubs can be easily contaminated with bacteria and algae since some of the used water always stays in the pipes of the system.
Therefore, we would always recommend air baths. They dry themselves after each use, so no used water stays in the system. They provide equal pressure throughout the bath and the intensity of the massage can be adjusted.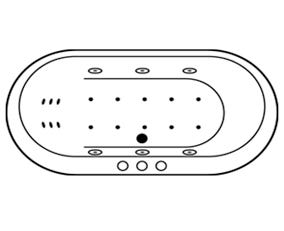 Step 6 - Bath Taps

Choosing the bath taps is the last and probably the easiest step. Your decision includes the style and the type of taps you will buy. The only requirement is that they fit the tap holes of the bath. There are four most common tap configurations: ball, compression, disc and cartridge taps.
The disc tap is the most expensive, but at the same time the most functional one, offering reliability, durability and low maintenance. They usually come with a lifetime warranty.